5 More Songs, CYHSY, Random Notes, etc.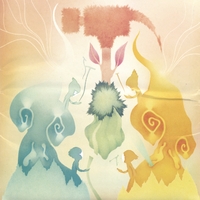 After posting my favourite songs of the year the other day, i kept thinking of all the great songs i excluded, like "Roscoe", "Wolf Like Me", "Rubies" and many, many others. So i thought i would throw up 5 more songs to round things off, but i instead i have chosen 5 that are perhaps a little under exposed, although still very special in my opinion-
Splintering
-
Arizona.
A complex elegant song that really holds your attention throughout, this NY band have really carved about a niche for themselves.
You're Only Lonely
-
Micah P Hinson.
This song floored me with its emotional depth, a real grower, than it builds to a tumultuous finish, a rare rock moment for Micah.
Here's Your Future
-
The Thermals.
Short, to the point, music can still be made like this. Hutch Harris makes you believe.
"God reached his hand down from the sky
He flooded the land then he set it on fire
He said, "Fear me again. No, I'm your father.
Remember that no one can breathe underwater"
Grey Skies
-
Catfish Haven.
This song absolutely smoulders, slow sparse build up, then George Hunter barely whispers into the microphone, drums kick in, just a sensational feeling song.
Time That Bald Sexton
-
Danielson.
Unique, strange, exciting too. A slice of life, multi-layered, very rewarding.
"When folks refuse to see how much is too much
I shall turn away and to thee"
I'm sure in the next couple of days, the blogosphere will be awash with the new Clap Your Hands tracks from their forthcoming album, due for release at the end of January. If you go to their website you can listen to 2 tracks they have put up for free download in advance. I won't bother posting the songs here as i'm sure you will see them everywhere shortly. I for one, really enjoyed their debut album, and although the haters seem to be out there, i think they produce exciting music and i am eager to hear the new one, "Some Loud Thunder". As for the leaked songs, i really like "Underwater (You and Me)", a very melodic pop song, whilst "Love Song No. 7" is a bit of a curve ball, but i think will grow on me. One more thought, whether you like the band or not, i think you should admire their independent status, i think they are a genuine band and not some manufactured studio creation.
A ton of best of 2006 lists are appearing at this time of the year, some i have enjoyed recently are at Gorilla vs Bear, Chromewaves and at Wolf-Notes. For those not aware Wolf-Notes was formerly Good Hodgkins, so if you link to that site it might be time to update. Also Largehearted Boy has just put up a nice list today.

I plan to post my list next week, after this weeks slew of amazing shows,

Midlake,

Band

of Horses

and

Tapes 'n' Tapes

all coming up, should be great fun.